Broken Sword: Shadow of the Templars - The Director's Cut + RIP

| 650 MB - | E o RIP | 371 MB

- Gen.: Adventure / Puzzle / Point-and-click| Lançamento: 03/09/2010
-
Broken Sword: Shadow of the Templars - The Director's Cut
é um jogo de aventura no melhor estilo point-and-click. O jogo é uma versão revitalizada de um dos maiores títulos do gênero lançado originalmente nos computadores. A linha Broken Sword — soma quatro títulos — acompanha George Stobbart e Nico Collard ao longo de uma série de aventuras inspiradas em fatos históricos e contos mitológicos.
Em
Shadow of the Templars
— o primeiro título da série —, começa quando Geoge Stobbart escapa de uma explosão em um café parisiense. Seguindo as pistas deixadas pelo assassino que plantou a bomba, George descobre algo muito maior e mais perigoso que se estende até a misteriosa ordem dos Cavaleiros Templários.
Com a ajuda da jornalista francesa, Nicole Collard (Nico), a dupla seguirá uma trilha repleta de perigos que os levará aos pontos mais distantes do globo, em busca de respostas para um enigma centenário.
Essa edição também traz uma trama paralela, que mostra Nico Collard e sua investigação da morte de um rico iluminista francês, Pierre Carchon. Com novas locações, personagens e quebra-cabeças, essa trama paralela adiciona um número significativo de horas a jogabilidade.
Leia mais sobre o game aqui
Screenshots: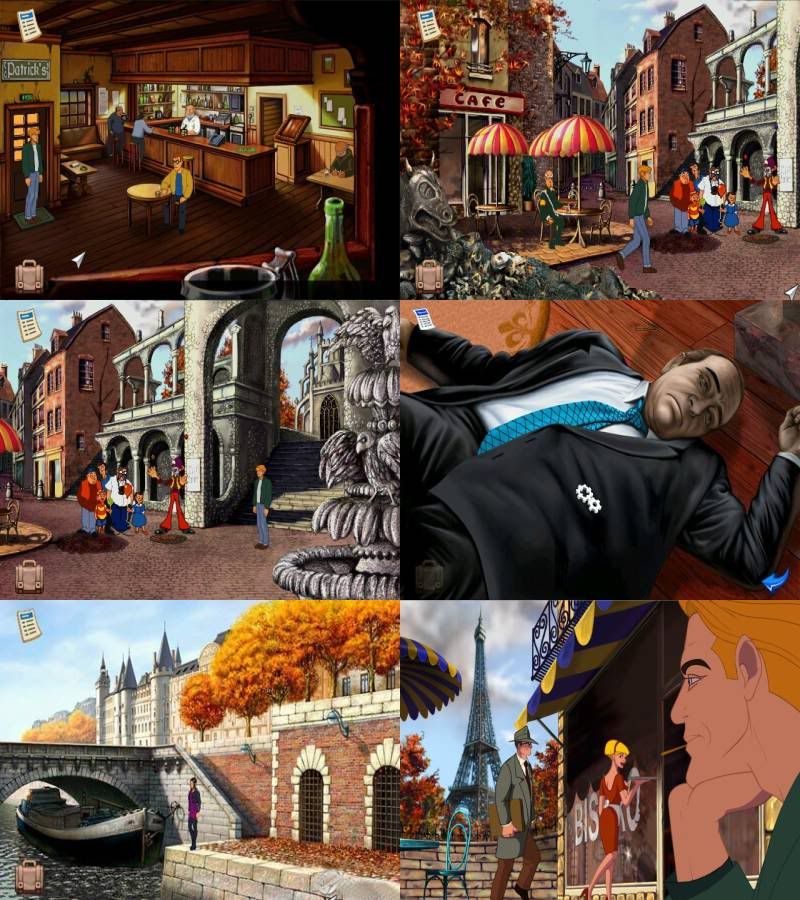 Características:
Mistério Profundo e Cativante Assassinato
• Enredo intrigante na sequência de uma testemunha ocular de uma jornalista em um trágico assassinato.
Controles Intuitivos Redefinindo o Gênero Aventura
• Novo sistema de sugestão impede os jogadores de sempre ficar preso por puzzles em que oferece dicas e conselhos, quando necessário.
Jogabilidade Multiplayer Nova Cooperativa
• Descubra a aventura com um novo modo de um jogador dois, permitindo que dois jogadores.
Conteúdo Exclusivo Cut Director (Corte do Diretor)
• Novos elementos na história e configurações! Se juntarmos os eventos antes e depois do Broken Sword original.
• Exclusivo puzzles adicionado uma nova profundidade ao jogo de exploração. rico estilo de arte e colorida ilustração
• Impressionantes ilustrações desenhadas à mão pelo renomado artista Dave Gibbons.
• Animação de expressões faciais retratam histórias e empatia emocional.
Requisitos do Sistema:
• OS:
Windows XP/Vista/7
• Processador:
Pentium IV 1.5 /2 GHz ou melhor (Vista/7)
• Memória:
512 MB / 1 GB RAM (Vista/7)
• Disco Rígido:
2 GB livres
• Memória de Vídeo:
DirectX compatível com 128 MB Video Card
(ATI Radeon X1300 or NVidia GeForce 6600GT)
• Placa de Som:
Compatível com DirectX
• DirectX:
9.0c
Broken Sword: Shadow of the Templars
Part.1
---

Part.2
Ou...Links Intercambiáveis...
Part.1
---

Part.2
Broken Sword: Shadow of the Templars RIP
...Ou...